Madden NFL Mobile Football
6.2.2
Enjoy NFL Football as it is Meant to Be
If you are an NFL football enthusiast and a passionate supporter of one of the franchises then this game is the perfect fit for you. Madden NFL Football is a nice game which allows you to enjoy American football as the GM of a franchise in the NFL as well as a player. It lets you become the star player on the team and play a role in the team's success. You also get to manage the team as the franchise GM and lead them to NFL glory. In addition to this, there are various game modes on offer that will keep you coming back for more. The stunning graphics and immersive gameplay ensure that you experience the same level of thrill and excitement as the actual NFL players.
Madden NFL Football is easy to play and even novices who don't have an idea about American Football can quickly learn how to play it. This is down to the intuitive controls which are explained in a simple tone and aren't that difficult to master. There are a few buttons that you have to control in order to play this NFL football game. You have a virtual joystick located at the bottom-left corner of the screen which is for moving the player around. There is the option of controlling the player with touch movements too in which you touch the screen to tell the player where to go. On the bottom-right corner of the screen, there is a skill button which allows you to perform a skill both during attack and defense.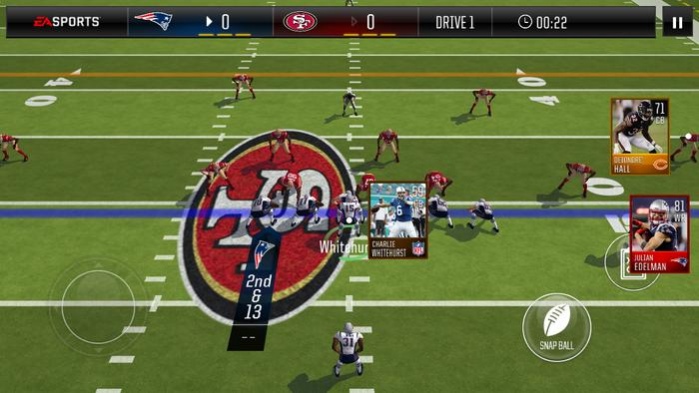 In this NFL football game, you get the opportunity to become the GM of your favorite NFL franchise. As the GM, your job is to manage your squad and build up a strong team that is capable of winning the NFL. This means that you have to constantly improve the team by upgrading your player's level. You can do this by training the players and making them perform drills that will improve their skills. Complete the training exercise grants you training packs that include specific cards. You need to use them for enhancing the skills of your offensive and defensive lineup. The backroom staff and coaches can play a role in the team's success too. So, you need to keep an eye on them and select the best personnel for the job.
Madden NFL Football provides a PvP mode to you in which you get to go head to head with other online players. Your task in this game mode is to score as many touchdowns as possible and win the game. You will have to master both the defensive and offensive facets of the game in order to succeed in this game mode. In this NFL football game, you get to participate in live events too. You can win big rewards by taking part in them. Moreover, there are various daily goals that you need to complete to win card packs.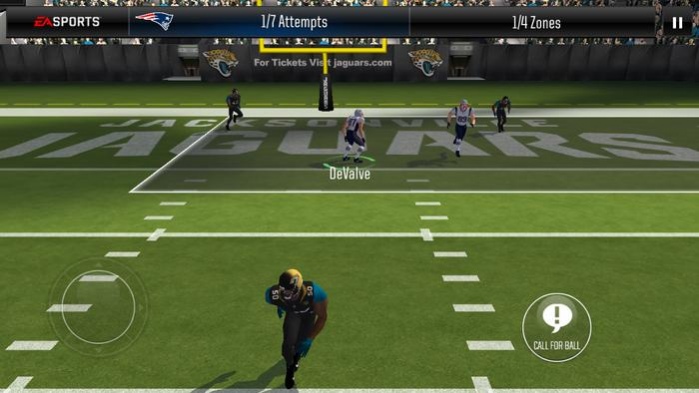 Features:
Multiple game modes
Become the GM of an NFL franchise
Build your team and lead them to NFL glory
Career mode for playing as a player in the NFL
Play against other players in competitive PvP mode
Train your players to increase their stats
Level up your team members and teach them special skills
Various daily goals to complete
Take part in live events to earn great rewards
Conclusion:
Madden NFL Football is a gaming app which is aimed towards people who love watching the NFL. It enables them to enjoy NFL football from the perspective of a player and the GM of a franchise and try to become the best at each of these jobs. It is a fun game to have on your phone especially if you are passionate about American football.
---
Add a review
Tell us your experience with
Madden NFL Mobile Football
6.2.2
RELATED PROGRAMS
Our Recommendations
---
---
---
---